Minimum Quorum & Initial Distribution of Tasks (Work Units)
The subject terms can be found on the Results Status page Work Unit detail header.
Minimum Quorum: The number of result copies needing to be returned by different devices(hosts) without error to permit validation and computation of granted credit for processing contributed.
Initial Distribution: The number of work unit copies send to different devices (hosts) for processing.
Depending on the type of science, size of work unit, size of data transmission, distribution complexity and other criteria, different numbers of copies are send out for computation. The present projects and numbers are:
Due to the nature of the Nutritious Rice for the World computations it can happen that parts of the initial distribution set will not be sent out until the first results have been returned. This is to ensure that all tasks compute unique structures, thus optimizing project efficiency.

Sample of a Help Fight Childhood Cancer work unit detail page header:
| | |
| --- | --- |
| Project Name: | Help Fight Childhood Cancer |
| Created: | 16/03/09 |
| Name: | HFCC_t1_00005126_TrkB_0000 |
| Minimum Quorum: | 2 |
| Replication: | 2 |

For each uncertain [Inconclusive], faulty [Error] or not returned copy [No Reply, Detach, Client Abort] an extra one is distributed to make up the difference until minimum quorum is reached. This is with restriction if too many faulty copies are returned, at which time the work unit is taken out of circulation for technical review. When the original, make up and extra copies have to be completed is explained in the FAQ: Deadlines.
Which copy a device/host has received from the Initial Distribution is indicated by the suffix of a work unit name. The first copy is marked as _ 0 for example:
    X0000048900526200505181523_ 0--
    X0000048900526200505181523_ 1--

The host's copy is on the Work Unit Name detail screen highlighted with a orange background.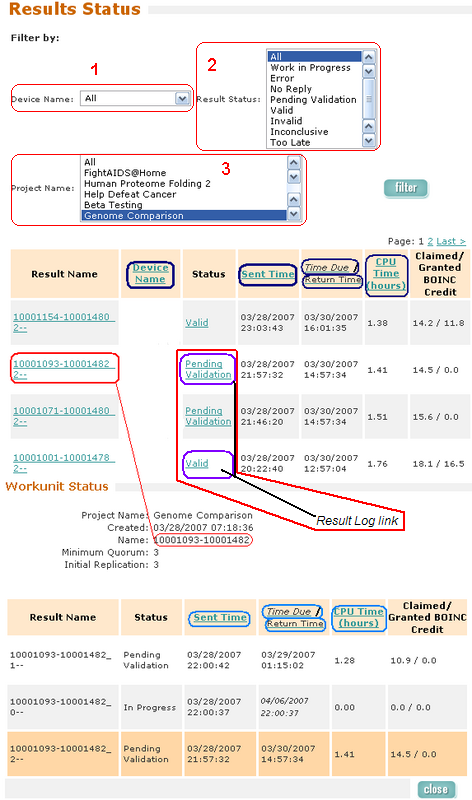 (See the Result Status page FAQ for detail explanation).
Related topics