Help Cure Muscular Dystrophy - Phase 2 is investigating protein interactions, focussing on those that play a role in neuromuscular diseases. The goal is to help researchers design molecules that inhibit or enhance binding of particular macromolecules, hopefully leading to better treatments for neuromuscular diseases, particularly muscular dystrophy.
Programme Décrypthon
The Decrypthon Program is a collaboration launched by AFM (French Muscular Dystrophy Association), CNRS (French National Center for Scientific Research) and IBM in May 2004. This partnership is a technical platform for grid computing which includes technical, financial, and human resources in which RENATER (French National Communication for Research and Network), Universities, and individual Internet users participate.
Publications
Main article: Publications
Sacquin-Mora, Sophie; Carbone, Alessandra; Lavery, Richard (2008),
"Identification of Protein Interaction Partners and Protein–Protein Interaction Sites",
Journal of Molecular Biology 382 (5): 1276 - 1289, doi:10.1016/j.jmb.2008.08.002

External links
Help Cure Muscular Dystrophy - Phase 2

Status

Active

Info

May 13, 2009

Research software

Software version

6.14
Project news
Loading RSS data...
Known issues
Loading RSS data...
Graphics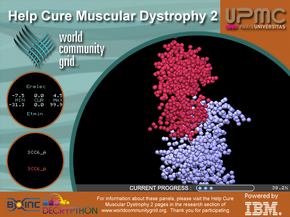 Community content is available under
CC-BY-SA
unless otherwise noted.